Jessica Simpson Prespen Transparent Floral Print Slide Sandals JXC8nJVu
SKU86102392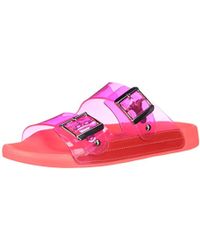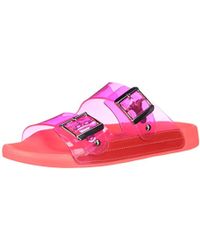 Click to follow The Independent Online
The IEEE Interactive map shows the relationship between energy and water, and the report reveals the amount needed for a Google search.
A special report entitled "Where water meets watts" from the international organization the Institute of Electrical and Electronics Engineers (IEEE) examines the relationship between water and energy. The report calculates that a single Google search requires half a milliliter of water in energy, and therefore the 300 million searches worldwide, each day require 150,000 liters of water to produce to produce the required electrical power.
The IEEE has released a unique map that shows the relationship between water and energy. Users scroll the world map and click on highlighted countries; data is then displayed giving an insight into the relationship between water and energy, the percentage of the population with access to clean water, renewable energy per capita and oil consumption per person and the methods being used to try to alleviate the problem of shortages.
Water shortages are becoming increasingly severe as the world struggles to produce the amount of power it requires; as a result several innovative schemes have been implemented over the globe. For example Singapore has introduced a scheme which collects and cleans waste water before reintroducing a small proportion of it back into the island's main water supply. Scottsdale, Arizona, Northern Virginia and Orange County California also have similar schemes.
It is hoped that the IEEE's map will encourage global awareness of regional and worldwide water shortage problems, prompting people to consider their water usage. A number of websites also offer personal water consumption calculators including http://www.csgnetwork.com/waterusagecalc.html , and Cecelia New York Jamie Genuine Fox Fur Pompom Flat 6QvEry
.
EverQuote Insurance Quotes
Undo
Undo
Undo
Undo
Undo
Undo
Undo
Undo
EverQuote Insurance Quotes
Undo
Undo
Undo
Undo
Undo
Luxury Auto | Sponsored Links
Undo
Energy Bill Cruncher Solar Quotes
Undo
Undo
Undo
Comments
How can Christians preach the gospel and shine in darkness when we have had so much sin in our own camp?
No wonder homosexuality is now accepted by a majority of citizens (up 20 points since 2001) and by some in the church. The problem is we have gone from loving our neighbor (which is biblical) to accepting their lifestyle (which is unbiblical) to flat out celebrating sin (sinning with them). What major city or state does not have a gay pride parade or similar event?
The LGBT hijacked rainbow is everywhere; but the current estimate of LGBT adults is around 3.9% pf the U.S. population and less than 0.4% are married to a same-sex spouse. This proves the left is definitely winning the war of words, gaining ground and swaying popular opinion.
One year after the SCOTUS decided to rebel against and redefine God-ordained natural marriage, less than ten percent (123,000 couples) have married a same-sex spouse. The way the media portrayed their plight you'd think the majority of LGBT people would have flocked to the courthouses and wedding chapels in America.
Apparently, marriage wasn't the end goal after all; and the Left's appetite for evil cannot be satisfied.
Truth be told, we all need our sins forgiven and I hope you've trusted Jesus Christ for salvation. He is Lord and the Bible is true whether we believe or not!
Reflecting on the anniversary of last year's SCOTUS decision, apologist, Alex McFarland stated:
God has the ultimate veto power. As an evangelist, I don't want any of those 123,000 couples to be surprised by this fact. All same-sex couples should realize that what they've entered into will never be recognized by God. As an evangelist, I want to tell every person that they should turn to God now and be saved.
I believe God is also calling a lukewarm church to turn back to Him and repent. Jesus is standing at the door!
Is our faith strong enough to survive the massive tides of moral relativism, humanism, and secularism? It is vital we wake as many Jaunt Platform Wedges WlffF
as we can before time runs out. In order for us to be more influential in our culture, let's get back to the basics of speaking God's eternal truth and of course, living it ourselves.
God has been leading me to take an honest and thorough look at my own faith and what I often see is an Americanized version of comfortable Christianity. I understand how easy it is to waste years on selfish interests and worldly pursuits.
Thankfully, He has brought me to a point where my heart is softening again and I can't help but notice things that must grieve our loving Creator and Father. This new journey has caused me to ask some important questions beginning with:
Perhaps one of the least discussed Scriptures in the New Testament is Jesus speaking to professing believers in Matthew 7:22-23, stating 'I never knew you; depart from me,' further proving lip service does not fool a holy God. Luke 6:46 sums it up clearly:
It's that important to walk our Christian talk and obey the commandments. I recently heard a message in which the pastor said, "You're looking around at others or nodding your heads as if this doesn't apply to you. When I suggest some of you may not be saved because there is little evidence you're living for Jesus Christ, I'm talking to you."
He was preaching about repentance to professing believers. Remember, John the Baptist said to produce fruit in keeping with repentance (Matthew 3:8). The two go together.
According to the Apostle Paul, it is possible for some to fail the test and not recognize Christ is in them and therefore, not live according to the gospel they supposedly received.
Paul wrote this to Christians in the church at Corinth whom he was preparing to visit for the third time. After getting to know them and hearing about their behavior he basically told them to make sure they were saved!
Even with eye witnesses of Jesus still around at that time, some believers had conformed to the world instead of resisting sin. Paul felt it necessary to confront them about exactly what they believed and how they were living.
When we mention this today some accuse us of judging or being intolerant. Here's a memo for those who have not studied the whole Bible: GOD IS INTOLERANT OF SIN.
Paul confronted and challenged believes on their hypocrisy, warning them to repent. John the Baptist prepared the way for Jesus Christ by preaching repentance from sin. Revelation 3:2-3 further warns Christians:
Why are there so many Scriptures telling people that are already saved to wake up?
Why don't we have a sense of urgency as we watch the moral decline of America and witness more corruption and godlessness than ever in our history? Have we lost our influence?
One of the questions I attempt to answer in my book, , is, if a majority of Americans (77%) profess some form of Christianity, why does the evidence (fruit) overwhelmingly show secular culture has more influence on Christians than we have on culture?
If we fail to preach the whole gospel message, we limit the Holy Spirit rather than inviting Him to work. Jesus said the Holy Spirit would "convict the world concerning sin and righteousness and judgment." (John 16:8) Without conviction of sin there can be no repentance and without true repentance there can be no salvation!
Isn't this what the true gospel is all about?
But don't miss the good news, that while we were still rebellious sinners, God sent His only Son, Jesus Christ, to die for us so we might be forgiven. Jesus bridged the gap between sinful mankind and a holy, righteous God.
We should never back down from the same truth Jesus warned the early Church about when He confronted lukewarm believers. (Rev. 3:15-16)
Examine yourself, my friend! Please do not put this off any longer. At the risk of stating the obvious, a person is not saved because their family used to take them to church or because their parents are Christians.
If we believe what the Bible teaches about Heaven and Hell, shouldn't we care about the authentic salvation of others? What about the sin that is all around us infecting both our culture and the church? Do we understand we are called to be set apart from the world (sanctified)?
Compromise seems to be the new tolerance, however, b iblical truth must be the foundation of our worldview and that truth should affect everything we do and say.
When Jesus appeared to the disciples after His resurrection, He told them that repentance and forgiveness of sins should be preached in His name (Luke 24:27). Think of the last three sermons you heard at church. I hope your pastor is following His lead.
What kind of lasting fruit are you and I producing? Are we abiding in Christ? He is glorified when we abide in Him, and when we bear good fruit it proves we are His disciples! (John 15:8-9)
Let's seek Him first in our lives and then live what we believe.
Let's not be ashamed to speak up about Christ and love others by telling them hard truths. We are commissioned to preach the Word in every season (2 Tim. 4:2) because the gospel is the power of God for salvation to everyone who believes (Romans 1:18).
If Jesus has truly changed our hearts and if our minds have been transformed, our lives will show it. Regardless of whether the message is accepted by others, you and I are called to be His messengers. Peter said, "Be saved from this perverse generation!" (Acts 2:40)
No more hypocrisy, please. When Christians say one thing and then live just like the world, why should unbelievers want the Jesus we profess to believe in? We can have this world or we can have Jesus Christ, but never both. If we love the things in this world, God's love is not in us (1 John 2:15).
Let's examine ourselves to make sure we are fully in Christ.
Test yourselves to see if you are in the faith; examine yourselves! Or do you not recognize this about yourselves, that Jesus Christ is in you—unless indeed you fail the test?But I trust that you will realize that we ourselves do not fail the test.2 Corinthians 13:5-6
Reporting on jazz from around the globe since 1995.